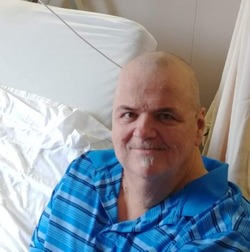 Ronald Dolman
- May 07, 2020
Wilkes-Barre
Ronald Dolman, 67, of Wilkes-Barre, passed away in Geisinger Wyoming Valley Medical Center on Thursday, May 7th.
Ron was born in Pittston to the late Howard and Freda Osik Dolman.
Ron worked as one of the first paramedics on the North Region Joint Ambulance/Medic 303.
Ron is survived by his children Victoria Dolman and boyfriend George Bryant, John Dolman and girlfriend Melissa Negri, and William Dolman; grandchildren Thomas, Elizabeth, and Samantha; ex-wife Janet Miles-Dolman; brother John Dolman, sister Nancy Stone, brother Jerry Dolman, and several nieces and nephews.
Due to the COVID-19 regulations, a private graveside service will be preached by Rev. James Quinn.

Guestbook Entries
Jerry and family of Ron, We are so sorry for your loss. May he RIP. May you have many good memories of the good times. Thoughts and prayers to all.

Joyce and Ed Masher

(over 2 years ago)
My condolences to the family. Sorry for your loss.

Wayne Mitchell

(over 2 years ago)
Our deepest sympathy.

Fred Pierantoni III

(over 2 years ago)
Jerry and family: I am so sorry for your loss, Ron was a good man

Robert Scatena

(over 2 years ago)
One final goodnight, Sir Knightlight. From your CSG sister. You will be missed.

Cathy Hicks

(over 2 years ago)
A great guy who loved to visit and talk Sports at Simmons Big League Sports Cards, formerly on Broad St.

Christopher Matys

(over 2 years ago)
Sign the Guestbook