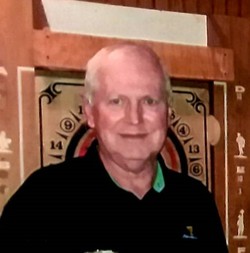 Paul W. Mullock
- October 26, 2021
Yatesville
Paul W. Mullock, 71 of Yatesville, passed away with his wife and children by his side on October 26 in Hospice of the Sacred Heart, Dunmore.
Paul was born in Scranton to the late Luke and Mary Margaret Bohan Mullock.
Paul graduated from Scranton High School and Bloomsburg University, and then worked for 33 years at Keystone Automotive, retiring as the Director of Finance. He also enjoyed working for Boden in the warehouse.
Paul was an active member of St. John the Evangelist Church and was the treasurer of the Holy Name Society. He was also a member of the Knights of Columbus and was a very avid golfer, playing in 2 golf leagues.
Paul was preceded in death by his brother Michael.
Paul will be dearly missed by his family and friends, especially by his beloved wife Rosemary (McCanna), children Jennifer Koch and husband Christian, Shannon Meier and husband Brad, and Matthew; grandchildren Madeline, Meghan, Liam, Teagan, and Finn; siblings Larry Mullock, Richard (Mary) Mullock, Mary Beth (Fred) Affeldt, Ann Marie Mullock, Ellen (Jim) Vitaletti, and Ann (Joe) Ruddy; and many nieces and nephews.
A Mass of Christian burial will be held at 9:30am on Tuesday, November 2 at St. john the Evangelist Church, Pittston. Interment will follow in the parish cemetery. Everyone is asked to go directly to the church the morning of the funeral.
Friends may call at the funeral home on Monday from 5-7pm.
In lieu of flowers, those wishing may make donations in Paul's memory to The Prescription Fund at Dr. Greenwald's office, 382 Pierce St., Kingston, PA 18704.
Masking is requested for those attending the viewing and funeral.

Guestbook Entries
So sorry to hear of Paul's passing. Paul and I were best friends growing up until around the age in the early twenties. I have such great memories of Paul and his wonderful family. My prayers are with you and Paul's family. May God somehow give you all comfort. With love Bill

Bill eckenrode

(8 months ago)
You are in our thoughts and prayers at this very sad time in time in life.

Mary and Tom Jones

(8 months ago)
Dear Shannon. I remember your dad when he worked at Keystone and often came to Cheers for lunch. He always had a smile on his face and never left without peeking in kitchen to give us a THUMBS UP! Our sympathy is with you and your family.

Lois Ciali

(8 months ago)
Rosemary- we were saddened to hear of Paul's passing. You and your family are in our thoughts and prayers.

Carol and Robert Kaluzavich

(8 months ago)
Paul was a truly kind and genuine man and will be missed. He was one great guy and he loved Romy and his children/grandchildren so much and would always share stories about all of them. I believe that all who knew him are better people because of his personality and kindness. God bless you all.

Michael Walsh

(8 months ago)
I am so sorry for your loss. This is a very sad and painful time for you! Please know you are all in my thoughts and prayers.

Barbara Zdimal

(8 months ago)
Dear Rosemary and family, so sorry to learn of Paul's passing. He was one of the nicest, kindness man I ever met. I will always remember our days at Keystone, he was always a gentleman and considered him to be a great friend. Prayers to all.

Grace Solano

(8 months ago)
Sign the Guestbook