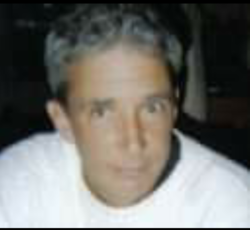 Michael W. Hewitt
- February 13, 2016
Avoca
Michael W. Hewitt, 56 of Avoca, passed away unexpectedly Saturday night.
Born in New Jersey, Michael was the son of William and Mabel Woodhull Hewitt.
Michael worked for Keystone and Fox Hill Country Club, but his passions in life were fishing, camping, and being a loving grandfather to his 3 grandchildren.
In addition to his parents, he was preceded in death by Kathleen Hewitt.
Michael is survived by his children Melissa, Michael, and Corey Hewitt; grandchildren Morgan, Connor, and Collin; sisters Michele Marsola and Mandy Loeffler; and several nieces and nephews.
The services are at the convenience of the family. There are no calling hours. Donations can be made to the family in Michael's memory and sent to the Ruane & Mudlock Funeral Home, Inc., 18 Kennedy St., Pittston.
Guestbook Entries
I miss you like crazy it's so empty here without you. I love you dad

Your son mike

(over 6 years ago)
Tell me what does it look like in heaven Is it peaceful? Is free like they say? Does the sun shine bright forever Have your fears and your pain gone away [Pre-hook:] 'Cause here on earth it feels like everything good is missing since you left And here on earth everything's different, there's an emptiness [Hook:] Oh-oh, I, I hope you're dancing in the sky I hope you're singing in the angel's choir I hope the angels know what they have I'll bet it's so nice up in heaven since you arrived [Verse 2:] So tell me, what do you do up in heaven Are your days filled with love and light Is there music? Is there art and invention? Tell me are you happy? Are you more alive? [Pre-Hook:] 'Cause here on earth it feels like everything good is missing since you left And here on earth everything's different, there's an emptiness [Hook:] Oh-oh, I, I hope you're dancing in the sky And I hope you're singing in the angel's choir And I hope the angels know what they have I'll bet it's so nice up in heaven since you arrived I hope you're dancing in the sky And I hope you're singing in the angel's choir And I hope the angels know what they have I'll bet it's so nice up in heaven since you arrived Since you arrived "Danny and Lizzy song"

Shannon, Isaiah, Elijah, Weston, Wes

(over 6 years ago)
O'Magnify the Lord with me, and let us exalt his name together. I sought the Lord and he heard me, and delivered me from my fears. They looked unto him, and were lighted: and their faces were not ashamed. This poor man cried and the Lord heard him, and saved him out of all his troubles. My brother Michael, a part of each and everyone that knew you, went with you, the day the Lord took you home. Peace be with you always. We will love and miss you every day of the rest of our lives. Until we meet again.

Michele and John Marsola

(over 6 years ago)
To the Family of Michael W. Hewitt, So sorry to learn about the loss of your Dear Loved One, Michael. Please know that so many people share your grief with you with you to help you through this difficult time of sorrow. Please accept my deepest condolences as we await the time when Christ Jesus will awaken all of those who have fallen asleep in death; including your Beloved, Michael. (John 11:41-44)

J. Moore

(over 6 years ago)
Sign the Guestbook