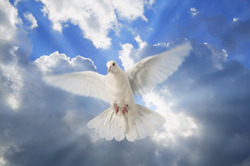 Max Harper Novis
- April 25, 2016
Max Harper Novis, beloved daughter of Frank Novis and Sarah Kozloski, passed away shortly after birth on Monday, April 25th.
Preceding her in death were maternal grandfather Michael Kozloski and paternal grandparents Kenneth and Rosemary Novis.
In addition to her parents, Max is survived by her brothers Alex and Parker Novis, maternal grandparents Laura and Pete Duncan, Uncle Michael Kozloski, Aunt Wynter Perillo, Godmother Susan Lombardo, and Godfather Angelo Giambra.
The family wishes to extend a special thank you to Lisa Crawn and the obstetrics staff at the Wilkes-Barre General Hospital.
There are no calling hours.
Guestbook Entries
So very sorry to hear of your loss, prayers sent.

Christine Smith and family

(over 5 years ago)
I'm so sorry for your loss. My prayers are with you and your family.

Melissa Warren

(over 5 years ago)
So sorry for your loss my condolences to you and your family

Theresa miller

(over 5 years ago)
I am so very sorry for your loss. Wynter had told me about your circumstance and I was praying for you all. Sometimes we don't understand God's plan in this life, but I do believe nothing passes through His hands that He is not aware of. So know that you little Max is safely in God's kingdom and you can see her again someday.With deepest sympathy.

Liz Parrish

(over 5 years ago)
my heart goes out to both of use love use

rich an cathy asay

(over 5 years ago)
Sarah, Frank, Alex and Parker. So truly sorry for your loss. Thoughts and prayers are with you and your family. God bless!

Sandy & Bill Naugle

(over 5 years ago)
We haven't spoken in years but I am so so sorry sarah Frankie and the boys. my heart hurts deeply for you four. I understand words could never take away the pain, but all my thoughts and prayers are with you all. May that beautiful angel be with you always. Xoxo

Amber

(over 5 years ago)
Im so sorry for your loss.. My prayers are with you an your family. God Bless and Godspeed

Tracy Borini

(over 5 years ago)
My friend my sister, I'm so very sorry for your loss. I love u. You have your little angel watching over u. Love u sweetie. RIP Max.

Marla Granteed

(over 5 years ago)
Sending prayers to you guys!

Erin Adams

(over 5 years ago)
Sarah,Frank,Alex and Parker im so sorry for the loss of your daughter and sister i know no words can take the pain away from your heavy hearts right now. But i hope you all find some way to know she is a angel now watching over everyone of you.. My deepest condolences are with your family at this tough time.. Prayers and thoughts also. I love you Sarah

Tianna Daiello

(over 5 years ago)
Sarah Frank and boys so sorry for the loss of ur daughter and sister my heart goes out to you all

Donna Turner

(over 5 years ago)
To Sarah, Frank, Alex and Parker, We are so deeply sorry for your loss, if you need anything please let us know. Sending love and comfort.

The Burgio Family

(over 5 years ago)
Sarah, Frank and boys, I am so sorry for the loss of your beautiful baby girl, she is now a precious angel looking after you all, my prayers are with you during this difficult time.

Jenn Slater

(over 5 years ago)
Larris Law I have a baby brother or baby sister stillborn and I know the route there playing with your little girl right now may God shower his blessings on you and no care if your child

Larris Law

(over 5 years ago)
I am extremely sorry for your loss. Most most difficult thing to do is to bury your child. She is with God now looking down at you everyday. Your angel. Sarah my heart goes out to you and your family. I am so sorry Laura. Your family has gone through so much this year. You are all in my thoughts and prayers.

Darlene Stone

(over 5 years ago)
So so very sorry for your loss , May God Bless Your Family . Sending Prayers !

Gerri Kinney

(over 5 years ago)
im so sorry to hear that,she more then an angel ,she alway looking down on u and know how much mommy and daddy loved her,alex and parker too

robin

(over 5 years ago)
Sarah, Frank, Alex and Parker I am so sorry please know you all our in my thoughts and prayers

Carol Suriano

(over 5 years ago)
Laura, I am so sorry my heart just broken in two reading this my thought and prayers to your family.

Donna Pucilowski

(over 5 years ago)
So So very Sorry Sarah, Frank, and the boys!! My heart breaks for you all <3

Sandra Sweeney

(over 5 years ago)
Sarah Frank Alex & Parker my condolences to you and your family.

Kimberly OBoyle

(over 5 years ago)
I can not express how saddened I am by the sudden loss of your beautiful daughter & sister. My thoughts and prayers are with you and your family, Sarah.

Catey, &Boys

(over 5 years ago)
Sarah, Frank, Alex & Parker, There are no words to express the pain my heart feels for you all for the loss of your beloved daughter & sister. I hope you can find comfort in knowing that she was so special she was meant to fly high in the heavens as an angel who will always be watching over you all & protecting you. Please know that you all are in my thoughts & prayers during this difficult time. Much love to you all.

Amy Davison, Joseph & John Mihalkovitz

(over 5 years ago)
Sign the Guestbook