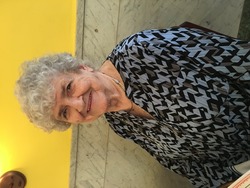 Mary T. Ruane
- November 18, 2022
Pittston
With heavy hearts, the Ruane & Mudlock Funeral Home announces the peaceful passing of Mary T. Ruane. Mother Mary, as she was affectionately known by many, was born in Scranton on September 11, 1926 to the late John and Sally Hoban McGlynn. Her beloved husband Jimmy, the founder and previous director of the funeral home, preceded her in death in 2012.
Mary graduated from St. John the Evangelist High School and also completed post-graduate business school at St. John's. She was a member of St. John the Evangelist Church, Pittston and its Altar and Rosary Society, the Jacquelines, and the Telephone Pioneers. Mary volunteered with Jimmy at the Pittston Ambulance and was a member of the original Board of Directors.
Mary was a supervisor at the Bell Telephone until her retirement in 1983. She then helped Jimmy run the funeral homes and even held a widow's license for a time after he passed.
Mother Mary was the matriarch of her family. She loved them dearly and enjoyed researching the family ancestry. Some of her favorite things included traveling to visit her son Jim, eating out, and going for rides to see the fall colors and Christmas lights. She was a very realistic person who had the most generous, kind heart and would help and comfort anyone in need.
Left to cherish her memory are her son Jim, Brussels, Belgium, granddaughter Laura Mudlock, Pittston, her golden retriever Phoebe Snow, many nieces, nephews, and those who were almost family.
Mary was also preceded in death by her sisters Eileen Lynn and Katie Hoban, brothers John, Joseph, and Thomas McGlynn.
The family would like to thank the staff at the Meadows Manor for their exceptional care. In lieu of flowers, donations can be made to Care and Concern Ministries at St. John the Evangelist Parish, Pittston.
The family will receive friends and relatives at St. John the Evangelist Church, William St. Pittston on Wednesday, November 23 from 10-11am followed by Mass at 11am. Interment will be in St. Mary's Cemetery, Hanover Twp.

Guestbook Entries
Aunt Mary was a wonderful person and so special to all of us - especially my mom Sally! Sending love to Jim and Laura from the Jordan Family. Sad to miss today due to the flu. Saying prayers and thinking of Aunt Mary's warmth and beautiful smile.

Susan Kelly

(2 months ago)
I am so deeply saddened to hear that Mary has passed! She was a wonderful & kind person . Thoughts and prayers to you all.

Alice Fortini

(2 months ago)
Laura & family, i am so very sorry for your loss. Aunt Mary was a phenomenal woman, in every way. She will be missed terribly!

Aimee Grabosky-Rios

(2 months ago)
Laura, we are very sorry for the loss of your dear grandma.

Tino and Elizabeth Turco

(2 months ago)
My heart goes out to her family! She was a great woman! Laura took such good care of her! My condolences!

Teresa Healey Michaels

(2 months ago)
Wonderful woman & cousin. Will never be forgotten. Love from McGlynns in N.J. and Florida.

Ned McGlynn

(2 months ago)
Sign the Guestbook