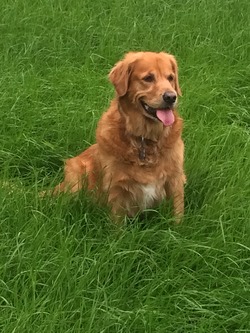 Maggie
- January 09, 2016
Pittston
Maggie, beloved dog of the Ruane and Mudlock families, passed away unexpectedly Saturday evening.  She would have celebrated her 10th birthday on January 28th. 
Maggie was loved by everyone who knew her, and she was affectionally known to many as Pittston's dog.  Maggie served many years as a comfort dog for the funeral home, was a caretaker and constant companion to Sox, Mary, and Laura, and spent many hours at the Pittston Ambulance and Firehouse. 
In 2008, she was awarded the Hero of the Year Award by Geisinger after she saved Sox's life.  In the future, she will be added to the mural in Pittston in the window next to Sox.
Guestbook Entries
Dear Mary , Laura I have never met such a wonderful caring dog god love her, I will never forget the nite she led Kenny to find him and save his life,she better be on the wall she will always be in our hearts but she will send u someone like her !! Happy birthday Jim ur Maggie is with you love as always

Donna Connors

(over 6 years ago)
Laura. So sorry to hear this! My thought are with you

Mary bone

(over 6 years ago)
Our thoughts and prayers are with you! We will definitely miss her visits.She was a great dog. Maggie and Ziggy are watching over us!

Gene and Pam

(over 6 years ago)
Once in a life time u will find a dog like Maggie she may have gone to heaven but she will all ways b in or hearts

Ken bangs

(over 6 years ago)
She deffently missed her best buddy. Myself and Brendan will miss our Maggie May. So sorry Laura I know that you are devastated. God bless.

Joe Kelly

(over 6 years ago)
I am brokenhearted. What a beautiful dog.

Lul

(over 6 years ago)
Maggie was the very best dog, although she was always treated like a human. I will miss her a lot. My condolences to Laura and Aunt Mary. I know how much she meant to both of you. She surely is with Uncle Jimmy now.

Terry Connerton

(over 6 years ago)
She loved to get in the UPS truck with me. Sox must have needed her.

Joe MCLean.

(over 6 years ago)
My heart is broken. Such a sweet dog. Sox & Woz have her now.

Mary Galuska

(over 6 years ago)
Laura and Mary we are so very sorry to hear about Maggie's passing. She was amazing in many ways. I know she is with Sox now.

Wendy Zerblas

(over 6 years ago)
SHE WAS A SWEET DOG! SO SORRY!

TERESA (HEALEY) MICHAELS

(over 6 years ago)
Laura, my thoughts and prayers are with you and Mary. Maggie was a fantastic dog. I always enjoyed playing with her. She will be with Sox frequently walking and chasing a ball. God Bless

Joe Zerblas

(over 6 years ago)
Laura, so sorry to hear about Maggie. You are in my thoughts

Jill Orth

(over 6 years ago)
I am so glad that I got to meet her this summer! She was truly an amazing dog. Please know that our thoughts and love are with you at this time of sorrow.

The DiMauros

(over 6 years ago)
Sign the Guestbook