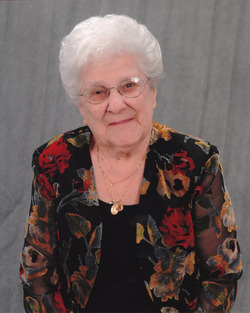 Josephine Lazzari
- October 23, 2014
Pittston
Josephine Lazzari, 101, a lifetime resident of Pittston, passed away Thursday at Wesley Village.
Born in Pittston on April 27, 1913, she was the daughter of the late Ignazio and Theresa Battisti Emma.
She attended Pittston schools and entered the work force at the silk mill at an early age. She retired from Consolidated Cigar Corp. in 1974 where she worked as a floor lady.
Josephine was an active member of St. John the Evangelist Church, Pittston and a member of their Altar and Rosary Society, the Ladies of Charity, the San Cataldo Society, and the Blooms and Bubbles Chapter of the Red Hat Society.
In addition to her parents, Josephine was preceded in death by her husband of 27 years, Vincent Lazzari, siblings Lilly Warney, Sam Emma, Joseph Emma, Grace Frushon, Theresa Sagliocolo, and Mary Alessandri.
Surviving are her only son Cataldo (Ky) Lazzari and his wife Earlene Sipler Lazzari of Wilkes-Barre, grandson Vincent K. Lazzari and his wife Theresa of Hughestown, granddaughter Theresa N. Lazzari of Philadelphia, great-grandson Anthony Michael Lazzari, several nieces and nephews.
Visitation hours are Sunday from 4-7pm. Friends are asked to go directly to St. John the Evangelist Church, Pittston, for a mass of Christian burial on Monday at 9:30am. Interment will follow in St. Rocco's Cemetery.
Guestbook Entries
Ky, My sincere condolences, on the loss of your mother, may she rest in peace.

Joseph Rodgers

(almost 8 years ago)
Sign the Guestbook