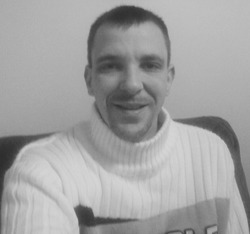 Joseph Boyko
- January 18, 2016
West Pittston
Joseph Paul Boyko, Jr., 31 of West Pittston, passed away on Monday, January 18.
Joe was born July 1, 1984 to Kelly Boyko, step-father Scott Zeller, and father Joseph Paul Boyko, Sr.
Joe enjoyed fishing and the outdoors, watching his favorite football team-the 49ers, and spending time with his friends and family.
Preceding him in death were grandfather Wayne Quick, step-grandfather Michael Montagna, and grandmother Barbara Boyko.
In addition to his parents, Joe is survived by brothers Christopher Boyko, Dupont and Michael Quick, Harrisburg; maternal grandparents Brian and Sharon Newman, Pittston, Aunts Amy Calabro, Pittston, Terry Savakinas, Colleen Kovaleski, Georgia, Uncles Wayne Quick, Hughestown, Scott Quick, Dupont; cousins Amanda and Shaun Quick, Madison Calabro, Pittston, Scott and Dale Quick, Dupont, Ian, Kyle, and Ricky, Georgia, Justin and Josh, Yatesville; Beloved Ira James.
Friends and family are welcome from 9am-11am on Friday, January 22, 2016 at the Ruane & Mudlock Funeral Home, Inc., 18 Kennedy St., Pittston. A funeral service will be held at the funeral home at 11am, and interment will follow in the Pittston Cemetery. Online condolences can be made at www.ruaneandmudlock.com.
Guestbook Entries
Joe and Paula sorry for ur loss its a hard road to go down enjoy the memories that u have and my prayer's will be with u and the whole family

Bear francoeur

(over 6 years ago)
Joe, you will be missed. throughout the years we had ups and downs but you were always a great person with a huge heart. RIP good friend til we meet again

Jenn Williams

(over 6 years ago)
So sorry the loss of a child is like no other. It's an unbearable ache that never ends, you just learn to live with it. Our thoughts and prayers are with you and your family in this sorrowful time.

Joann and Doug Moore

(over 6 years ago)
God speed brother god speed. See you when we get there buddy. Fly high rest easy.

Anthony & Josie Gentile

(over 6 years ago)
I'm sorry for your loss Joe is a great guy.

Joseph gentile

(over 6 years ago)
Joe and Paula, We are so very sorry. Our hearts are broken for you. God Bless you and all of Joe's family.

Loni & Charlie Zardus

(over 6 years ago)
Joe and Paula I am so very sorry for your loss..

Tammy

(over 6 years ago)
Dear family and loved ones of Joe. Please accept our heartfelt sympathy. May your loved one rest in peace with God our father. Sincerely, Gloria and David Hooper, friends of Joe and Paul Boyko

Gloria Hooper

(over 6 years ago)
love you so much my baby boy my heart is hearting so bad you will never be gone you will always be with us LOVE YOU NANA XOXOXOXO

shar newman

(over 6 years ago)
I am so sorry for your loss. I have fond memories of Joe hanging out with my boys. He was a Great guy and will be greatly missed. Prayers to his family. May he finally be at peace. God has given you a special Guardian Angel. God Bless.

Rose Folweiler

(over 6 years ago)
Xoxoxoxo Rest In Peace Joe Boyko Xoxoxoxo Kelly I am so very sorry for your loss I no this is not going to be easy for you but remember he will always be with you every minute of your life stay strong god bless you and your family. Xoxoxoxo ANGELS TO THE EAST, ANGELS TO THE WEST, DEAR GOD WATCH OVER, ((JOE)) WHILE HE REST Xoxoxoxo

mariah Stewart

(over 6 years ago)
May God let him Rest in Peace and offer strength for all the family to get through this tragic time.

Shelli Ladner

(over 6 years ago)
I love you so much joey your always my brother until i see you again i love you god speed joey. My memories are what I have left, and a lesson I will not forget. The time has come when time is no more and all that's left was once before. The memories so dear and true, those memories of me and you. Although we fell and stumbled at times, all those hills were necessary climbs. All the times when your heart shined through, Are the greatest memories I have of you. I will always remember you, brother of mine in my heart I will keep you, so I will be fine. I will go forward with my head up high, it might be hard, I cannot lie. But in my heart you will be, moving forward, you with me.

Chris boyko

(over 6 years ago)
Chris, so sorry for your loss. We will keep you and your family in our prayers

DeeAnn Martin

(over 6 years ago)
Our thoughts and prayers are with the whole family

David gronski

(over 6 years ago)
The night sky will be a little brighter, for a new star named joseph has arrived to fill in a dark patch above. Looking down upon us all smiling, his light will shine so bright that a shadow will form on the ground before you. Rest easy joseph until we all meet again. Jim G and Tammy.

james galvacky

(over 6 years ago)
I had Joe in school. I can still remember that smile and his laugh. God received another angel. Prayers for Kelly and family. Am so very sorry for your loss.

Kim Rugletic

(over 6 years ago)
Joe going to miss you bud.May you fly high and watch over your family.Rest easy my friend .Prayers to all the family .I'll see you on the otherside .

George Wolak

(over 6 years ago)
Chris sorry for your loss! God Bless you and your family!

Mark Mazurkivich

(over 6 years ago)
I'm so sorry you will greatly missed by all watch over and guide us all till we meet again

Ann Marie love

(over 6 years ago)
Joe you are gonna be missed. I sending prayers to the family. God. Bless

lori scholeck

(over 6 years ago)
So very sorry to Joe's entire family. He was a great person. God rest his soul and God be with the family.

Diane Raineri

(over 6 years ago)
Sign the Guestbook