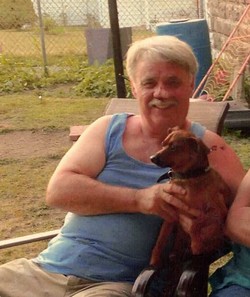 Jon Dwyer
- June 24, 2022
Pittston
Jon Dwyer, 69 of Pittston, passed away peacefully at home on June 24. He was surrounded by his beloved family, dear friends Deb and mike, and his dog Jake was by his side.
Jon was born November 12, 1952 to James and Marion Dwyer. He attended Pittston Area and Johnson School of Technology. Jon proudly served the in the 109th Infantry of the US Army. He retired in 2012 after working 33 years at Tobyhanna Army Depot.
Jon was loved by many. Even more, he loved his dear wife Rosemary, niece Antionette (Ryan) Flynn and nephew Tony (Maria) Brogna, who were like a daughter and son to him. His love, laughter, and smile shined even more bright to the many other numerous nieces and nephews that Jon held very close to his heart, especially Collin, AJ (who called his Uncle "Johnny Boy"), and Vinny, who spent weekends at the house joking around with him. In fact, Uncle Jon was more like a father figure to most of his nieces and nephews.
In addition to his parents, Jon was preceded in death by his brothers Billy and James Dwyer.
He leaves behind his wife of 44 years-Rosemary (Brogna), sisters Ann (Sal) Mecca, Karen Quick (partner Jay), Naomi Mahiga, brother-in-law John (Sharon) Brogna, sister-in-law Nancy Brogna, brother-in-law Albert Brogna, and the rest of his nieces, nephews, great-nieces and great-nephews.
As per his wishes, his family will hold a private celebration of his life at his home where everyone gathers.
Guestbook Entries
I looked for a contact with jon as of 1974, we were room mates in Fort Riley Kansas. He was a great friend wish I would have got to contact him much earilier

Herbert Dwayne Bilbrey

(3 months ago)
Deepest condolences to the family.

Steve Farruggia Sr

(over 1 year ago)
I'm so sorry for your loss. If you need anything, please call. Joe Rogan

Joe Rogan

(over 1 year ago)
Rosemary I remember so many laughs with Jon at the American Legion Those were great times Jon was the best friend to have I'll miss him So sorry for your loss . My prayers are with you

Bernice Gallo

(over 1 year ago)
I worked alongside Jon for many years at Tobyhanna and always considered him a friend. We shared many a laugh together. My deepest condolences to his wife and family. Forever Rest In Peace.

John Krebs

(over 1 year ago)
My prayers and thoughts are with you and jon

Wayne Quick

(over 1 year ago)
I am so very sorry for your loss. He was such a sweet man. He will always remain in your heart, and forever be, your guardian angel

Nancy Smith

(over 1 year ago)
Sign the Guestbook