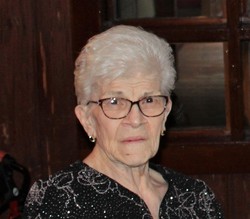 Jean E. Bonning Truchon
- February 06, 2018
Wesley Village
Jean E. Bonning Truchon, 89, former owner of Bonning's Plymouth Flower Shop, went home to be with the Lord peacefully on Tuesday.
Jean was born in Plymouth to the late Corey and Minnie Wolfgang Bonning, graduated from Plymouth High School, and resided at Wesley Village. She was also a member of the Independent Bible Church of Duryea.
Jean was preceded in death by her husband John, siblings Anna, Gethan, and Kenneth Bonning, and Theda Thomas.
Surviving Jean are her daughter Bonnie Wright, grandchildren Michele Durling, Cheri Gensel, and Craig Gassert, and 7 great-grandchildren.
There will be a viewing at the Independent Bible Church of Duryea from 9-10am on Saturday, February 10 with the funeral to follow immediately at 10am. Interment will be in Memorial Shrine Cemetery, Carverton. Arrangements are by the Ruane & Mudlock Funeral Home, Inc., 18 Kennedy St., Pittston. Online condolences may be made at www.ruaneandmudlock.com.
The family requests that in lieu of flowers, donations be made to the Independent Bible Church of Duryea, PO Box 2093, Duryea, PA 18642.
Guestbook Entries
Dearest Bonnie, Sheri, Michele and (Craiggy) as Grandma would call you, We are so sorry for you and your families that your Mom and Grandma has passed away. We do Rejoice with you that she went peacefully and is seeing her Beloved Savior Face to Face. How Glorious. She was a BEAUTIFUL CHRISTIAN who WALKED her TALK. She shared her faith openly with so many. Jean was so talented with her flowers. I loved standing at the counter and watching perform her Magic all the while Chatting with me. We were Blessed to know John as well and he was a Gem. You are so Blessed God chose to Share her with you and this Crazy world. We Loved her .. Our Prayers are with you during the days to come. She is a Precious Saint.. Love Cindy and Ernie Dymond.

Cindy and Ernie Dymond

(almost 4 years ago)
Sign the Guestbook