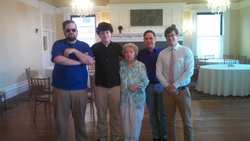 Janet Loughney
- August 03, 2016
Pittston
Janet Clare (Tracy) Loughney, 89, of Pittston, went to sleep in the Lord on Wednesday, August 03, 2016 at the Golden Living Center, Plains Twp.
Born October 29, 1926 in Pittston, she was the daughter of the late Henry and Jane Donahue Tracy. Janet graduated from St. John the Evangelist High School, Pittston and went on to earn a degree in business education from Marywood College in Scranton. Throughout her career, she taught in several school districts including Souderton Area High School, Souderton, PA, St. Stanislaus, Landsdale, PA, Pittston Area, Wyoming Area, and Seton Catholic.
Janet was a member of St. John the Evangelist Church and its Altar and Rosary Society, the Serra Club, and the German Club. She was very proud of her Irish-Catholic heritage. She loved to play the piano at home surrounded by her family, loved to travel with her family, enjoyed local politics including working on the Obama campaign in 2008, and in her younger years played the organ at St. John's Parrish.
Janet's loving husband of 44 years, John Martin "Bull" Loughney, Jr. preceded her in death, as well as her brothers Frank and Paul Tracy, and her sister Nancy Guldin.
Surviving are her daughters Mary Susan Riccetti, Dupont, Anne Dolinsky, Pittston, and Jane Christian, Chelmsford, MA; grandsons Joseph Dolinsky, Kingston, William Riccetti, Omaha, NE, John Paul Riccetti, Pittston, and Ryan Christian, Boston, MA; several nieces and nephews.
A mass of Christian burial will be held Friday, August 5, 2016 at 10:30am at St. John the Evangelist Church, Pittston. There will be a viewing in the church from 9:30am until the time of service. In lieu of flowers donations may be made to Care and Concern Clinic at St. John's Parish.
The family would like to extend a heartfelt thank you to the wonderful, kind, and caring nurses, aides, and staff of Golden Living Center, Compassionate Care Hospice, and Dr. Fasciana's Team for taking care of our Mother.
Guestbook Entries
Jane, So sorry to hear about your mom. She went through a lot the past year. Thinking of the good times will keep her in your heart. Hope to see you soon.

Pat Johnson

(about 6 years ago)
I remember all the times when I was little boy visiting with Aunt Janet and Uncle Jack at 109 Church Street. So very sorry to hear this sad news. Prayers to Mary Susan, Anne, Jane and the entire family. I know Janet and my Mom Nancy are back together enjoying each other's company once again. I miss you both! God Bless you Aunt Janet!

Mike Guldin

(about 6 years ago)
So sorry for your loss, Janet loved her ginger ale at Golden Living center, she joined us for lunch, my father who is a resident and I.

Cheryl Young

(about 6 years ago)
So sorry for your loss.

Debbie from the shop

(about 6 years ago)
Sign the Guestbook