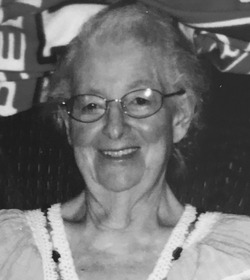 Helen N. Mudlock
- June 09, 2018
Laflin
Helen N. (Rinish) Mudlock, 88 of Laflin, died at home on Saturday, June 9, 2018, surrounded by her family. She was the beloved wife of Frank J Mudlock, Jr. with whom she enjoyed over 65 years of marriage. He preceded her in death on May 22, 2016.

Helen was born in the Shantytown section of Jenkins Township on September 10, 1929 to the late Peter and Mary (Skupen) Rinish. She attended Laflin and West Pittston schools and resided in Laflin most of her life. She was a member of St. Maria Goretti Parish, Laflin, Pa.
Prior to her retirement, Helen was employed at H & M Dress Factory, Laflin, Pa. and was also previously employed at lamp and cigar factories throughout the area. Helen loved to bake and cook, and she always put her family first. Helen was a former member of the Laflin Women's Club and was an avid Philadelphia Phillies fan.

In addition to her husband, she was preceded in death by brothers Peter, Robert and Sister Patricia Bartolotto.
Surviving are her children Mary Ann Knorr and husband Walter (Rocky), Jackson Twp., Frank Mudlock and wife Sharon, Jenkins Twp and James Mudlock and wife Michele, Mountaintop, as well as sister Marie Demnitski, Barnesville and grandchildren Stephanie Lombardo and husband Bernard, Kelsey, Brittany, James & Zackary Mudlock, and Walter (RJ), Natalie, Faith, & Frank Thomas Knorr, and numerous nieces and nephews.

Arrangements are by the Ruane & Mudlock Funeral Home, Inc.

A viewing will be held from 4-7pm on Wednesday, June 13, 2018 at the Baloga Funeral Home, 1201 Main St., Jenkins Twp. The funeral service will be at 9:45am Thursday from the Baloga Funeral Home with Mass of Christian burial at 10:30am in St. Maria Goretti Church, Laflin. Interment will follow in St. John the Baptist Cemetery, Schooley Ave., Exeter. Online condolences can be made at www.ruaneandmudlock.com.
Guestbook Entries
I am deeply saddened to read this...thoughts and prayers to the entire Mudlock family..."Hugs" Amy

Amy Poplawski

(about 4 years ago)
Rest in Peace Aunt Helen - I would agree with my sisters - thing I remember most was your amazing baking skills and the smell of baked cookies, cakes and other sweets from the kitchen!!! I would always get excited when special events occurred in Laflin and I knew you had sweets all on table - so many to choose from and all tasty..... Heaven now has a new "Baking Angel" With love, Joey Demnitski

Joey Demnitski

(about 4 years ago)
Rest in peace Aunt Helen-- you will be missed deeply. You were the kindest, sweetest, most gentle spirit I knew. You gave me my love of baking--- a gift I use every week. With love, Donna.

Donna Zelonis

(about 4 years ago)
You were the sweetest soul-- kind and gentle-- always ready with a smile and a warm comment. We will always remember your amazing baked goods and cookies. Rest in peace Aunt Helen... heaven now has a new angel.

Doreen Brill

(about 4 years ago)
Mary Ann, Frank, James, and all members of your family, know that prayers are offered to comfort you in this time of need. So sorry for your loss. Both of your parents have left behind a legacy of love and the importance of family support as evidenced by your daily actions and commitment to family and others. May God Bless and comfort you all throughout the coming days and years. Love, Deborah & Dale Neuhard and Family

Helen Mudlock

(about 4 years ago)
Condolences to the Mudlock family. Mrs Mudlock was a wonderful woman.

Sandy and smiler

(about 4 years ago)
WE MISS YOU SO SO MUCH YOU WILL BE LOVED EVEN MORE

Faith Knorr

(about 4 years ago)
Sign the Guestbook