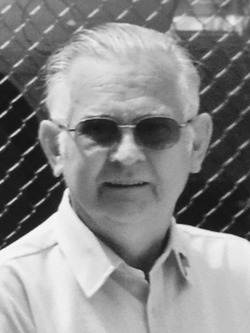 Frank J. Mudlock
- May 22, 2016
Laflin
Frank J. Mudlock, 88 of Laflin died at home on Sunday surrounded by his family and wife Helen N. (Rinish) Mudlock of 64 years.
He was born in the Shantytown section of Jenkins Township on May 27th, 1927 to the late Frank and Anna (Matusick) Mudlock. He attended Jenkins Township Schools.
Frank joined the U.S. Navy in 1945 for World War II and attended boot camp in Sampson New York. He served on the USS Ajax, USS Nawman, USS Sloat, and the USS Jaccard. He received several service medals which include the Pacific Theater, American Theater, Victory, National Defense, China Service, Occupational Service, WWII Ribbon, as well as the Cold War Certificate. He received an honorable discharge as Fireman 1st Class. He was once again called to active duty for the Korean War and assigned to the USS Macon.
After discharge, he worked in New Jersey and returned to this area in the early 1960's where he ran Mudlock's Tavern in Plains Township for several years, then was employed at Lion Brewery until his retirement in 1993. He was active with the union and served as president. He was then employed as a security officer for Lake Security at Blue Cross.
Frank never hesitated to volunteer his time or help anyone in need, from friends to family and members of the community. He was a life member of the Laflin Volunteer Fire Department, served on Laflin Borough Council, helped form Boy Scout Troop 185 and coached little league baseball in Laflin Borough. He was also a member of the Plains American Legion and the Kingston VFW. He was an avid Philadelphia Phillies fan.
He was preceded in death by brothers William, Leonard, & Andrew Mudlock and Sister Anna Mae Czerniakowski.
Surviving in addition to his wife are daughter Mary Ann Knorr & husband Walter (Rocky) Jackson Twp., son Frank Jr. & wife Sharon, Jenkins Twp. and son James & wife Michele, Mountaintop as well as sister Bernice Podrasky and grandchildren Stephanie, Kelsey, Brittany, Jimmy, & Zackary Mudlock, and Walter (RJ), Natalie, Faith, & Frank Thomas Knorr.
A viewing will be held from 4-7pm on Thursday, May 26, 2016 at the Baloga Funeral Home, 1201 Main St., Jenkins Twp. The funeral service will be at 10:30am Friday at Baloga Funeral Home with Mass of Christian burial at 11:30am in St. Maria Goretti Church, Laflin. Interment will follow in St. John the Baptist Cemetery, Schooley Ave., Exeter.
Guestbook Entries
On behalf of my father (11/21/89) former crewmate USS Jaccard '44-'45.

Matthias Lukens

(about 6 years ago)
Aunt Helen and family, praying that you all find comfort from the love and support of family and friends. Cherish the love and memories you have of Uncle Frank to help you through this difficult time. Our deepest condolences and love are with you all.

Frank and Carol Czerniakowski

(about 6 years ago)
Rest easy. You will be sadly missed and were a great man. Thinking of the family during this hard time. Much Love and many prayers to you all. Xoxo

Lauren Czerniakowski

(about 6 years ago)
Aunt Helen and family, I am so sorry for your loss.Uncle Franck was a great man and will be sadly missed.

Susan Mudlock

(about 6 years ago)
Frank, I am sorry to hear of your dad's passing. Please extend my sympathies to your family. I'll keep you in my prayers.

don jones

(about 6 years ago)
Aunt Helen and family, I am so sorry for your loss. Uncle Frank was like my father to me after my Dads passing, He will be greatly missed. Remember all the good times and hold on to the memories. Love you all.

Cindy Phillips

(about 6 years ago)
Aunt Helen and family, so sorry for your loss. Uncle Franck was a great man and will be sadly missed. Thinking of you and sending love and prayers.

Diane Mudlock Gowran

(about 6 years ago)
Sign the Guestbook