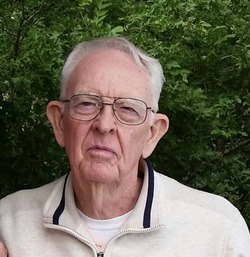 Edward J. "Ned" McLarney
- January 29, 2019
Bear Creek
Edward J. (Ned) McLarney, 90, of Wilkes Barre PA, passed away peacefully January 29, 2019 at Hospice of the Sacred Heart in Dunmore PA.

A mass of Christian burial will be held at St. Elizabeth's Church, Rt. 115 Bear Creek Twp. on Tuesday February 5th at 10:00 AM with Reverend Fathers Thomas Maloney & Anthony Urban co-celebrating. Visitation will be held at the church one hour prior to the mass from 9-10 AM. A social to celebrate Ned's life will be held immediately following mass in the parish hall. A private burial will follow at St. Mary's Cemetery in Hanover Twp. PA. Ruane & Mudlock Funeral Home, Inc. are handling the funeral arrangements.

Ned was born in Wilkes Barre PA to Joseph and Anna Mulcrone McLarney on September 13, 1928. He attended St. Mary's grade and high school. He went on to complete a four-year apprenticeship with the International Brotherhood of Sheet metal Workers, followed by a forty-five-year career as a journeyman. Prior to retirement, Ned was head draftsman for Power Engineering Corp. and designed HVAC systems for a multitude of public and private buildings throughout NEPA. He was a member of St. Conrad's Young Men's Society bowling and golf leagues for decades. A founding member of the Root Hollow Hunting Club, he immensely enjoyed the comradery it provided. Ned was a die-hard Notre Dame fan, but most importantly an incredible brother, uncle and friend to many; the first to offer and the last to expect anything in return.
In addition to his parents, Ned was preceded in death by his sisters Rita and Claire and brother Joseph and sister-in-law Ann McLarney Michak.
Ned is survived by his sister Anna Mae Finley (Thomas), and their children Thomas (Elizabeth), Kevin, Donna and Ann Marie McColligan (Bill). Also, Patti Harvilla (Alan), Jay McLarney, Donna Pierantoni (Hon. Fred) and Maureen Bilbo (Bob) and numerous nieces, and nephews who adored their uncle Ned.

In lieu of flowers, memorial donations may be made to the St. Elizabeth Building Fund. Condolences may be left in Ned's online guestbook at www.ruaneandmudlock.com.

The family wishes to extend their sincerest gratitude to the staff of Hospice of the Sacred Heart for their loving care in his final days and especially Nurse Kendra who exhibited tremendous compassion to him in his final hours; thank you.
Guestbook Entries
Ned was a wonderful friend and asset to his community. I will miss him dearly. May the road rise up to meet you and until we meet again may God hold you in the palm of His hand.

Jerry Hogan

(over 3 years ago)
We were privileged and blessed to have found such a great friend when We moved to Bear Creek PA, God Bless and Keep You dear Ned.

John and Ann Tucker

(over 3 years ago)
We will all miss his smiling face and friendly demeanor. Ned was a true gentleman in all aspects of his daily life, never a harsh word toward anyone. Farewell and may the LORD smile on you.

Bob

(over 3 years ago)
Sign the Guestbook