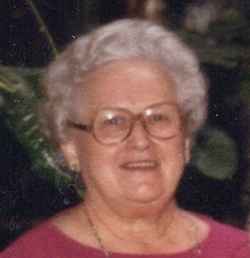 Dorothy Morris
- September 04, 2016
Pittston
Dorothy Morris, 98, passed away on Sunday, September 04 in Timber Ridge Health Care Center, Wilkes-Barre.
Born in Pittston, she was the daughter of the late John and Bertha Koeppenhofer Morris. Dorothy graduated from St. John the Evangelist High School, Pittston. She was a member of St. John the Evangelist Church and its Altar and Rosary Society.
Dorothy was preceded in death by her sisters Mary Morris, Alice (Charles) Boyce, and Catherine (Merle) Davies.
She is survived by several nieces and nephews.
A mass of Christian burial will be held Tuesday, September 7, 2016 at 9:30am at St. John the Evangelist Church, Pittston. There will be a viewing in the church from 8:30am until the time of service. Interment will be in the Parish Cemetery. In lieu of flowers donations may be made to Care and Concern Clinic at St. John's Parish.
Guestbook Entries
Be the first to add your comment.
Sign the Guestbook