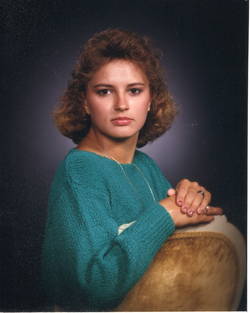 Donna-Sue James Chaplin
- August 13, 2016
Harveys Lake
After a lengthy illness, Donna-Sue James Chaplin passed into the arms of the Lord on August 13, 2016 in Geisinger Wyoming Valley Medical Center surrounded by her mother, father, and sister.
Donna-Sue was born in Kingston, PA on October 22, 1969. She graduated from Lake Lehman High School in 1987 where she played volleyball and was a member of the Award-Winning Lake Lehman Band. She attended Penn State University.
She relocated to Virginia and later to North Carolina where she was employed as a telecommunications project manager. She returned home to Harveys Lake for her final 3 years to be cared for by her family. She was married to Matthew Chaplin, Charlotte, NC.
Donna-Sue truly loved her daughters Zoe Chaplin, Holly Springs, NC and Kate Chaplin, Charlotte, NC and her companion dog Horatio. She also loved horses—her "Cindy" and "Babes." She was a 4-H State Champion and an American Horse Show Association Medal Class Winner. She had a passion for Billiards and played in several leagues. She qualified and participated in Las Vegas Competition.
In addition to her parents Norman and Susan James, Harveys Lake, Donna-Sue is survived by her sister Carolyn James and her children PJ and Isabella Pisano, Pittston, Aunt Maryalice James, Edwardsville, and several cousins in Kingston, Edwardsville, New York, and New Jersey.
Donna-Sue loved her God and never forgot His love for her.
Memorial Services will be held on Wednesday, August 17 at 10am at the Independent Bible Church, 328 Main St., Duryea with Pastor Dr. Al Cremard presiding.
In lieu of flowers, memorial contributions may be made at any Wells Fargo Bank to: Zoe & Kathleen Chaplin Donation Account.
Guestbook Entries
She is one of my best friends I just learned about this. We spoke on and off my prayers go out to the family, daughters, and Matt I'm shocked she was my best friend I am just so sad.

Chuck webster

(about 5 years ago)
We were so shocked to hear of Donna Sue passing and are so very sorry for your loss. We remember her so fondly from high school and God placed her in the hands of one of the best family's we know. Our thoughts and prayers are with all of you during this very difficult time.

John and Jeri Baranowski

(over 5 years ago)
We just wanted to express our condolences. You are, and have always been a wonderful family. We will keep you in our thoughts and prayers during this difficult .time.

The Ogurkis Family

(over 5 years ago)
So sorry for your loss.I remember her from being a member of the Lake-Lehman band.R.I.P. Donna Sue

Lori Lamoreaux Hazlak

(over 5 years ago)
I am so sorry for your loss. I used to work with Donna-Sue at SpectraSite in NC long time ago. I'm very sad over this news. She was a beautiful soul. I see she loved the Lord, just know she is with His holiness in Heaven. God bless you and your family during this difficult time. Peace also be with you.

Debby Williams

(over 5 years ago)
Our prayers are with you, Donna Sue and her family. May you find peace in your memories. God bless all of you during this difficult time.

Mark and Diane Mettler

(over 5 years ago)
So very sorry for your loss Our thoughts and prayers are with you

Carol and Rich Belmont

(over 5 years ago)
We were so saddened to hear about Donna Sue. Thinking of you and wishing you moments of peace and comfort as you celebrate her life. Caring thoughts are with you.

Bill and Adele Bernardi Tooms

(over 5 years ago)
We are so sorry for your loss. Our thoughts and prayers are with all of you. All our love, Keith and Larisa

Keith and Larisa Hillard

(over 5 years ago)
Sign the Guestbook