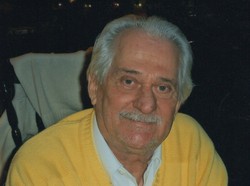 Daniel Savitsky
- September 03, 2021
Wyoming
Daniel Savitsky, 83, of Wyoming, died Friday September 3, 2021 with his loving family by his side at his daughter and son in law's home in Dallas, Pa.
He was born on February 16, 1938 in Kingston, PA to the late John and Anna Petro Savitsky. He was a 1955 graduate of Wyoming Memorial High School. Two weeks after graduation, he enlisted in the United States Navy where he became a Tin Can Sailor aboard the USS Hull DD- 945 and the USS Benham DD- 796. His greatest honor was a naval tradition known as Shellback for sailors who have crossed the equator and was granted the title of Trusty Shellback. He appreciated his naval career as it afforded him extensive travel and many opportunities that he would not have experienced otherwise. His naval flag hangs proudly in Wyoming Borough where he was a life-long resident.
After the navy, he began his 29-year career with the United States Postal Service in Caldwell, New Jersey, then transferring to the Pittston branch. He started his career as a letter carrier where he was known as "Danny the mailman" and in his later years became head of maintenance with the post office which he said was the best job in the world, retiring in 1992.
He was a volunteer firefighter and a Board Member of the Hose Company # 2, Wyoming. He recently became a member of the American Legion in Swoyersville.
On any given day you could find him on his front porch listening to music while reading the paper or tending to his flowers. He was so happy that his love of flowers passed on to his daughter. His sense of humor brought laughs to many.
In addition to his parents, he was preceded in death by his sister, Barbara Byzewski and brother-in-law Lewis Byzewski.
Surviving are his daughter Danielle Grella and her husband, Paul Grella, his grandson, Christian, who was the apple of his eye, his former wife, Colleen Mattey, who he remained friends with over the years, his nephew, Mark Byzewski and his wife, Giovanna, and children, extended family Ray and Corinne Zavada, Lynne Mylet and families, and Annie, his beloved beagle and faithful companion. He loved living in Wyoming and always appreciated all his neighbors who checked in on him.
He often referred to his daughter as his rainbow and his angel in his final days who handled all his arrangements and hospice care. The family would like to thank the nurses and aides at Geisinger Progressive Care and Post-Acute Medical Hospital and Bayada hospice care.
The funeral will be held on Friday, September 10 at 10am in St. Monica's Parish, 8th St., Wyoming. Private interment will follow in Memorial Shrine Cemetery. There are no calling hours.
Due to his love for animals, in lieu of flowers, memorial donations may be made to SPCA of Luzerne County, 524 E. Main St., Wilkes-Barre, PA 18702, Blue Chip Farm Animal Rescue, 974 Lockville Road, Dallas, PA 18612 or the American Lung Association.
Guestbook Entries
Beautifully written. Such a special man and uncle. RIP. Big hugs to the Grellas. Xoxo Sending love, the Kovals

The Kovals

(11 months ago)
So sorry to hear about the passing of Daniel. Our thoughts and prayers go out to his family and friends. God bless you all.

Granteed family

(11 months ago)
Dan was a quirky (in an endearing way), kind man who will be missed in our neighborhood. Thoughts and prayers to the family. May Dan Rest In Peace.

Kellie Tirva

(11 months ago)
Sign the Guestbook