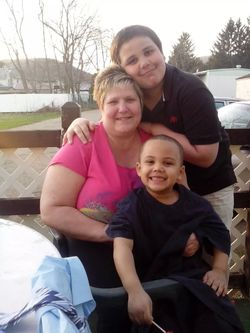 Christine Kuzminski
- December 30, 2014
Wyoming
Christine Kuzminski, 50, of Wyoming, passed away unexpectedly on Tuesday, December 30 at Wilkes-Barre General Hospital. 
Born in Wilkes-Barre, Christine was the daughter of Bernard Kuzminski and the late Helen Smith Kuzminski. She graduated from West Side Tech and worked many years for the Times Leader. She was most passionate about her life-long volunteerism at the VFW Post 396 in Wyoming where she served as a bartender.
Surviving are her daughter Jennifer, grandsons Dametri and Tyler, sister Judy Sedeski, brother Bernard, 1 niece and 3 nephews.
Friends are invited to join the family at the funeral home for a memorial service at 2pm on Sunday, January 4, 2015.
Guestbook Entries
To my dear friend, Chrissy, I can't believe you are gone from this world! A piece of my heart went along with you! You and I were best buddies since 1985 and shared many good times that I will never ever forget! Those rides on Sugar Hollow Road and ending up at Lovelton Hotel! You and I did so much together than one person can do in a lifetime! My heart is broken! Be at peace, girl, until we meet again !!

Claudette Bsrtorillo

(about 7 years ago)
To a good friend who was always smiling and so very cheerful.. Gonna miss you.. No words can say how much my heart goes out to you and your family. I will always remember the good times we had when we went out. I'll also remember that funny face you used to make when we got sooo silly.Tell Robert and Tommy we all said hello. RIP my god friend, Love, Mickey

Mickey Matson

(over 7 years ago)
I will miss you 'Kuz'. We knew each other a very long time and I will treasure all the great memories we shared. I'll think of you often and pray for you. May you rest in peace eternally. I love you. From the 'babushka badlands'...

Mary Beth (Matson) Cichocki

(over 7 years ago)
Chrissy was so much fun to be with. We always looked forward going to the VFW when she would be bartending even though we don't go there that often. She always made it a fun night to be at the club. We have so many great memories with her. Our hearts are broken to hear of her passing. Our condolences goes out to her family. Chrissy, we love you & will miss you so much. Thanks for all the laughs & great times we had together. We will never forget you.

Rich & Cathy Sweeney

(over 7 years ago)
<p>The Lord give you natural and spiritual vision for your future and give you the Spirit of wisdom and revelation (Ephesians 1:16,17 and on), enabling you to walk into and walk out the greatness that these things bring to you. Love ROBERT and DIANE</p>

Diane & Robert Titcomb

(over 7 years ago)
We will miss you so much Chrissy. You are in our hearts and soul.

Ray and Shannon Owens

(over 7 years ago)
Sign the Guestbook