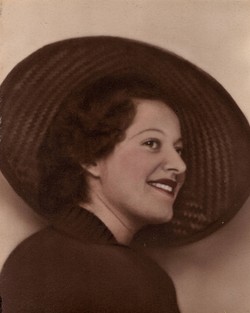 Betty C. Doyle
- May 05, 2021
Inkerman
Betty, Burna, nee Fiore, Carden Doyle passed away on May 5. Betty was born on March 18, 1916 in the Browntown section of Pittston, PA. At the time of her death, Betty was 105 years old. Betty was the wife of the late Paul A Doyle, who passed away in 2006, and the late Frank J. Carden, Sr., who passed away in 1960. She was the daughter of the late Julius and Maria Sassi Fiore, both natives of Rome, Italy.
Betty attended Pittston High School, the Wilkes-Barre Business School, and the International Correspondence School in Scranton. She was employed at the Globe Store in Scranton. Betty was a member of several professional women's organizations including the Greater Pittston Professional Women's Club where she was the secretary.
Betty enjoyed travelling with her second husband Paul Doyle. She and Paul travelled extensively throughout Europe, and for over 15 years they spent six months each year wintering in Europe. One of her favorite past times was having coffee with friends at the local McDonalds.
She is survived by her daughter Marianne Carden Talipan and son Frank Carden and his wife Mary of Pittston, seven grandchildren, 10 great-grandchildren, and numerous nieces, nephews, grand-nieces and grand-nephews, and her second husband's son Paul Doyle, Jr. and his wife Dee.
Betty was preceded in death by her sisters Emalda Biagoli, Gloria Abate, Lena Jurkovitz, and Helen Boatwright, all formerly of the Baltimore, MD area.
The family would like to thank Dr. Nidoh Das and Mercy Center Nursing Homes and its staff for their wonderful care. In lieu of flowers, donations can be made to the Little Sisters of the Poor in Scranton or to the Care and Concern Ministries at St. John the Evangelist Parish, Pittston.
Private funeral arrangements are being conducted by the Ruane & Mudlock Funeral Home, Inc., 18 Kennedy St., Pittston. A funeral Mass will be held at 10am on May 10 in St. John the Evangelist Church, Pittston. Interment will be at Mount Olivet Cemetery, Carverton, PA. There are no calling hours.
Guestbook Entries
I was sorry to see that Betty passed away! She was my favorite customer and I loved waiting on her. She was such a joy to talk to! My condolences to her family.

Alice Lewis from Gerrity's Deli Wyoming

(over 1 year ago)
Thank you for being you, Aunt Betty!

Eileen Keim

(over 1 year ago)
Rest in peace Betty. I will always fondly remember our family visits with you and Grandpa. May peace be with Frank and Mary, and Marianne, and all of the family.

Beth Doyle

(over 1 year ago)
Sign the Guestbook