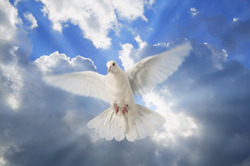 Bernice Podrasky
- December 14, 2016
Shantytown
Bernice Podrasky, of the Village of Shantytown, passed away on Wednesday surrounded by her family.
Born in the Village of Shantytown, she was the loving wife of the late Leonard Podrasky, Sr. and the daughter of the late Frank and Anna (Matusick) Mudlock. She graduated from Jenkins Township High School and was last employed by Dollar General in Pittston. Bernice was an active member of the former St. Mark's Church, Inkerman where she was a choir member and CCD coordinator. 
In addition to her husband, she was preceded in death by her daughter Lori Ann, brothers William, Frank, Leonard, & Andrew Mudlock and sister Anna Mae Czerniakowski.
Surviving are son Len and wife Karen, son Mark, daughter Maria Stravinski and husband Carl B., grandchildren Matthew and Anna Podrasky, Andrew and Jimmy Podrasky, Carl C. and wife Kaitlyn, Paula, and Steven Stravinski, step-grandchildren Kellianne Benner and Elizabeth Dymond, and several nieces and nephews.
A Mass of Christian Burial will be held on Friday, December 16, 2016 at 11am in St. Maria Goretti Church, 42 Redwood Dr., Laflin. There will be a viewing at the church from 10am until the time of service. Interment will follow in St. John the Baptist Cemetery, Exeter. The St. Maria Goretti Bereavement group will recite the Rosary 30 minutes prior to the funeral.
Guestbook Entries
Maria, I'm so sorry to hear about your mom's passing. Hugs and prayers to you and your family.

Noelle Hobbs Ipher

(almost 4 years ago)
I was so sorry to hear about your mom. My sympathy goes out to all family members. I will always remember her from St. Marks and how she was a wonderful lady trying to keep us all in line. She will be missed.

Romaine Stout

(almost 4 years ago)
Our love, prayers and condolences to my far away family. Momma and I will keep yall in our prayers! May Aunt Bernice rest in peace, and Memory Eternal!

Tish McKee and Tilli Pidrasky

(almost 4 years ago)
Lenny, Mark and Maria - so sorry for your loss. Aunt Bernice was such a wonderful lady and will be sadly missed. Thinking about you and sending love at this very difficult time.

Diane Gowran

(almost 4 years ago)
So sorry for your lost

Mandybmurphy

(almost 4 years ago)
Maria and family sorry for your loss may God give all of you strength to get through this toughest of times God Bless

john dunleavy

(almost 4 years ago)
So sorry Maria! She was a great lady.

Lisa Henry

(almost 4 years ago)
Maria and family Sorry for your loss

Mike Olek

(almost 4 years ago)
The entire Kay family sends their thoughts and prayers. May the Good Lord welcome her in his loving arms.....God Bless

Kay Family

(almost 4 years ago)
So Sorry for your loss..

Mike Timek

(almost 4 years ago)
Len, Mark, Maria and family: you are all in our thoughts and prayers at the loss of Aunt Bernice. May you find comfort in the love of family and friends during this difficult time.

Frank and Carol Czerniakowski

(almost 4 years ago)
Len, Maria and family, I am sorry for your loss, you are in my thoughts and prayers.

Maureen Orth

(almost 4 years ago)
We are so sorry to hear about Aunt Bernice. She was a wonderful lady. Your family is in our thoughts and prayers.

Tony and Joanne Argento

(almost 4 years ago)
So sorry for your lost. Now she in heaven with her family. God Bless

Susan Shoemaker

(almost 4 years ago)
Sign the Guestbook