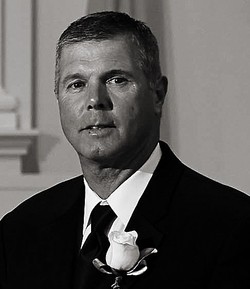 Anthony "Tony" Bryk, Jr.
- December 30, 2021
Pittston Twp.
Anthony "Tony" E. Bryk Jr., 71, of Pittston Twp., passed away at home on December 30, 2021, surrounded by his family following a courageous battle with cancer. Born in Avoca, he was the son of the late Anthony E. and Stella (Drouse) Bryk.
Both of his parents preceded Tony in death, as well as his sister-in-law Denise Mullen and brother-in-law, Michael Kaminski.
Tony graduated from Pittston Area School District in 1968, and enlisted in the NAVY, where he served on an aircraft carrier during the Vietnam War. He married his wife Diane in 1973 and had three sons. He spent over 40 years working in construction starting at Kaminski Brothers, Inc. and then for The H&K Group until his retirement in 2019.
Tony enjoyed watching old western TV shows, visiting national parks, and taking walks in the woods with the family dog and his grandchildren. He also enjoyed going out for dinner and taking coffee rides with his wife in his consistently clean vehicle. Tony looked forward to two seasons: fall wild mushroom season and baseball season, cheering on the New York Yankees with his sons and grandsons. In the early years of his life, he enjoyed hunting but eventually developed a soft spot and could not kill a deer anymore. His yard belonged in a landscaping magazine and was always manicured. He loved his "weed less" garden and sharing his vegetables with family and friends.
He is survived by his beloved wife of 48 years, the former Diane Kaminski; sons Sean and his wife Jean Ann of Laflin; Christopher and his wife Tara of Pittston Twp.; Anthony and his wife Daria of Pittston Twp.; grandchildren Aiden, Antonio, Zoey and Mariella; sister Theresa Bryk of Allentown; brothers-in-law George Kaminski and his wife Elizabeth of Dupont, David Kaminski and his wife Martina of Pittston Twp., and Jim Mullen of Mountain Top; sister-in-law Judy Kaminski of Dupont; several nieces and nephews.
The family would especially like to thank Superior Health Services of Dupont and Compassionate Care Hospice for all of their kindness and dedication. You went above and beyond throughout this very difficult time and made a huge difference to our father and family.
Arrangements are under the direction of Ruane & Mudlock Funeral Home of Pittston. Private funeral services will be held at the convenience of the family. Interment will be at Indiantown Gap National Cemetery, Annville, PA. A celebration of life ceremony will take place at 11am on Saturday, January 8, 2022 at the Independent Bible Church of Duryea, 328 Main St. Duryea.
In lieu of flowers, the family requests that donations be made in Tony's name to Independent Bible Church PO Box 2093, Duryea, PA 18642.
Guestbook Entries
My sincere condolences to Diane and all the Bryks. Tush was a good man. He had the cleanest trucks I ever saw. I wish you comfort during this difficult time.

John Mullen

(11 months ago)
I'm sorry for your loss. Tony was such a nice man. He helped my parents and I during the flood of 1972 clean out our house at River St. in Wilkes-Barre.

Bill Everett

(11 months ago)
I send my sincere condolences to Mrs. Bryk, Tony, Daria, Chris, and the rest of the family. In the short time I knew him, Mr. Bryk was a terrific man. God Bless.

Paul Batyko

(11 months ago)
Mrs. Bryk, Sean, Chris, Anthony, I am so sorry for your loss. It's a pain that no one can describe. I always considered my neighbors family, especially all of you since I can't count the number of times we spent together. I hope your beautiful memories help you through this hard time. Sending love to all of you.

Paula Vullo Heal

(11 months ago)
Diane and family, we are so sorry for your loss. Thoughts and prayers for you and your family.

Rosemarie and Chris Acernese

(11 months ago)
Sign the Guestbook