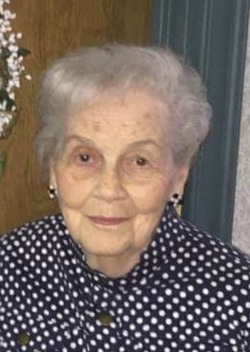 Anne Tierney
- May 22, 2020
Dallas
Anne Tierney, 91, of Wyoming, PA., passed away peacefully Friday, May 22,2020, in Hospice of the Sacred Heart surrounded by her family.
She was born in Wyoming, daughter of Frank and Mae Tarleton Decker, and graduated from St. Cecilia's High School, Exeter, in 1946.
She worked for Bell Telephone for many years with responsibilities ranging from a local operator to Maintenance Administrator and remains a member of the Telephone Pioneers of America.
Anne was an active member of St. Cecilia's Parish in Exeter, Altar and Rosary Society, and Eucharistic Ministry, as well as a dedicated volunteer at the Catherine Mc Auley House in Plymouth. 
She had a strong dedication to her family, friends and church. Anne was a thoughtful person who put the needs of others before herself.
In addition to her parents, she was preceded in death by her husband, Leo Aloysius Tierney; her son, James Christopher Tierney; Brother, William F. Decker; Sister, Mary A Trudnak and her devoted Aunt, Helen Tarleton.
Anne is survived by her children, Leo, Plains, Pa; Mary Ellen Boos and her husband Francis, Harleysville, Pa; Joseph and his wife Francine, Harveys Lake, Pa; Anne Chmieleski and her husband Mitchell, Sayre, Pa and Francis and his wife Yolanda, Bridgeport, Pa.; 13 grandchildren, 7 great grandchildren and several nieces and nephews.
The family would like to extend their appreciation to so many of the staff at the Mercy Center as well as the compassionate care and concern from the staff at Hospice of the Sacred Heart in Dunmore.
The Tierney Family has decided to plan a "Celebration of Life" with a Mass of Christian Burial after the pandemic restrictions are lifted. A mass will also be planned at the Mercy Center for the people who became her extended family over the last 7 years.
In lieu of flowers, the family suggests contributions to Catherine Mc Auley House, 121 Church St. Plymouth, Pa 18651 or Hospice of the Sacred Heart 100 William St., Dunmore, Pa 18510.
Guestbook Entries
My deepest sympathy. She was such a remarkable lady and raised a wonderful family.

Marisa Hudak

(over 1 year ago)
Thinking of you all and sending prayers for comfort. Deepest sympathies

Teri Bomboy

(over 1 year ago)
We share your grief at the loss of a wonderful woman who made everyone feel like family.

Bob and Kathy Kirk

(over 1 year ago)
You are a great Family and I'm so sorry for your loss. My thoughts and prayers are with you during these times!!

Pamela Diehl

(over 1 year ago)
Truly a bright light to all those who knew her. We will miss you Nana. Sending love and strength to all her family

Patti Hewitt

(over 1 year ago)
I worked with Anne as a telephone operator and enjoyed her company at out Telephone Pioneer meetings. She will be missed by everyone who knew her. God bless Anne

Nancy Karpovich

(over 1 year ago)
A lovely lady who I'm sure will be missed by many. Our thoughts and prayers to her family with love . May she rest in peace.

John and Terri

(over 1 year ago)
Very sorry about your Mom, Frank. Please accept our families condolences.

Shawn Courtney

(over 1 year ago)
With you in Spirit .

Ubaldo and Olivia Arellano

(over 1 year ago)
I will always remember the greeting from Aunt Anne she was so happy to see everyone. Aunt anne was with my sister Rita and myself when my father died. She comforts and prayed for us! Aunt Anne managed to get a priest for his last rites. Many times Rita and I talk about that day with fond memories of Aunt Anne taking care of us. I will never forget her!

Pat Davis

(over 1 year ago)
I am so sorry for your loss, such a sweet, loving and wonderful person who was always very kind to me. My thoughts and love are with you all. Xx

Cindy Claes

(over 1 year ago)
Sign the Guestbook