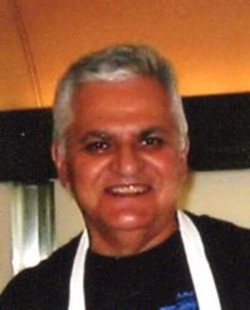 Andrew Hornick
- March 02, 2015
Jenkins Twp
Andrew Hornick, Jenkins Twp., passed away peacefully, surrounded by his loving family Monday, March 2, 2015 at the Wilkes-Barre General Hospital.
Born in Wilkes-Barre, he was the son of the late Andrew and Helen Pavelchack Hornick and the beloved husband of Kathryn Aritz Hornick.
Andy was best known as the owner of Andy's River Road Diner, Plains, and he was an avid sports fan and especially loved the Pittsburgh Steelers and Penn State football teams.
Andy was preceded in death by his sisters Anna Mae Balasenowich and Evelyn Guzik.
In addition to his wife Kathy, Andy is survived by his daughter Cynthia Moluski, son Andrew Hornick, grandchildren Samantha and Robert Moluski, brother John and wife Florence Hornick, sister-in-law Annette Bozinko, Brenda Bozinko, Susan Bozinko Hahne, nieces and nephews.
The family wishes to express their sincere gratitude to all the doctors and nurses, especially Dr. Charlie Manganiello, for your excellent care and compassion.
Visitation hours are Thursday from 4-7pm at the Mamary-Durkin Funeral Services Corp., 59 Parrish St. Wilkes-Barre. A funeral service will follow at 7pm at the funeral home with Father Rafferty presiding. In lieu of flowers, donations may be made to St. Jude's Children's Research Hospital, PO Box 1000, Dept. 42, Memphis, TN, 38148-0142.
Guestbook Entries
Andy was a wonderful man, he will be missed by many. We are so very sorry for your loss Kathy and family. You are in our thoughts and prayers. God Bless you all!

Sandy and Bob Slezak

(over 7 years ago)
Andy was a wonderful man, he will be missed by many. We are so very sorry for your loss Kathy and family. You are in our thoughts and prayers. God Bless you all!

Sandy and Bob Slezak

(over 7 years ago)
So sorry to hear of Andy's passing. He was always so friendly to everybody who came into the diner. Rest in peace. Ours thoughts and prayers are with you Kathryn and family.

Andrew & Rita Fedor

(over 7 years ago)
We are so sorry to hear about your dad. He always made you feel so welcome coming to his diner. Andy was such a kind and gentle man. We will miss him very much. The last time we were we were not able to talk to him because of the party in the backroom. He always made sure that you were taken care of. It will not be the same not seeing Andy there. You are all in our prayers. Andy is now one of the LORDS helpers. He is showing his kindness and love in heaven. RIP Andy we miss you very much.

Jim and Terri Zezza

(over 7 years ago)
Andy always had a smile on his face and a warm welcome for all who came into the diner. He treated myself and my fellow Troopers like we were family. Gods speed Andy.

Jim Packer-PSP retired

(over 7 years ago)
A very special person leaves us but we can always keep his memory alive. Thank you Andy.

David Rivera

(over 7 years ago)
Andy always had a smile and a joke ready when I'd stop into the restaurant and he'd always chuckle that he'd be "trying" to stay out of trouble. He will be missed by everyone who knew him. My sincere condolences to his family and close friends!

Laura Bovee

(over 7 years ago)
Andy my Great friend. I have known you and Kathy and the kids for many years. You and your family were always there for me when I needed you. There was and will only be one Andy Hornick. I will miss you my friend. You have and always will be in my prayers.

Bill Renfer

(over 7 years ago)
We will miss you uncle Andy.

Michael and Jimmy Koutros

(over 7 years ago)
Our deepest sympathy to the Hornick family. Our thoughts and prayers are with you. We are truly grateful for having met and gotten to know such a wonderful man.

MaryAnn, Paul, and Gabrielle Gottlieb

(over 7 years ago)
Very sorry for your loss. He was a great man.

Carl Stein

(over 7 years ago)
We are saddened to read about Andy's passing. Our deepest condolences to his family from the 4 of us.

Valentine's Day quartet

(over 7 years ago)
A light has gone out in Plains My deepest sympathy to Kathy and the Hornick family. I will miss his "yes, yes, yes."

John MacCartney

(over 7 years ago)
We are so sorry for your loss. Our family visits Andy's Diner frequently and always loved being greeted by Andy! He will be missed. God bless your family. RIP Andy. Ken and Joanne Gorski

Gorski Family, Jenkins Township

(over 7 years ago)
Our sincere thoughts and prayers to all your family Andy - you were a wonderful person, and will be greatly missed. Karen and Matt Mcginnes, Judy and Len Ostrum, and Jennifer and Gary Wardecki and Rich Szot.

Judy and Len Ostrum, Karen & Matt McGinnis

(over 7 years ago)
I had the pleasure of meeting Andy through his wonderful daughter Cindy. I am sure he will be missed by the many who's lives he touched.I am so sorry for your loss.

Ginny Johnson

(over 7 years ago)
I CONSIDER ANDY A GREAT FRIEND AND CLASSMATE.EVERY TIME I CAME BACK TO PLAINS,I ALWAYS CAME TO THE DINER TO VISIT WITH ANDY AND REMINISCE ABOUT OUR TRIP TO NYC ON PROM NIGHT.HE WILL BE GREATLY MISSED.MY THOUGHTS AND PRAYERS ARE WITH KATHY AND FAMILY

CARL PRICE

(over 7 years ago)
We keep you in our thoughts and prayers. We remember Andy from the diner when we worked at Mr. Z's/Weis in Plains for many years.

Ron and Renee VanWhy

(over 7 years ago)
You were the best father anyone could ask for. I will love you forever.

cindy moluski

(over 7 years ago)
I love you dad

Andrew W Hornick

(over 7 years ago)
Sign the Guestbook