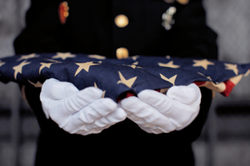 Alfred Hoover
- May 21, 2022
Duryea
Alfred Peter Hoover, 74, of Duryea, passed away on May 21st under the care of Compassionate Care Hospice.
Al was born in Duryea to the late Peter and Adele Zukauskas Hoover. He is survived by his sister and caretaker, Dolores.
After graduating from Northeast High School, he served with the Air Force during the Vietnam War. Prior to retirement, Al worked more than 35 years as a stagehand in Las Vegas and then returned home to spend quality time fishing. He also loved dogs and his truck.
Arrangements were conducted privately.
Guestbook Entries
Be the first to add your comment.
Sign the Guestbook