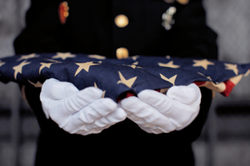 Albert Grabosky
- February 02, 2019
Pittston
Albert Grabosky, 84, of Pittston, passed away on Saturday, February, 2nd in Timber Ridge Nursing Home with his wife of 62 years by his side.
Al was born in Philadelphia to the late Albert and Frances Armalas Grabosky. After high school, Al joined the Marines and proudly served during the Korean War. Al worked for Garubas, Latona Trucking, and for many years as a police sergeant in Jenkins Twp. He was a gold star member of the Lithuanian Club in Inkerman.
Al was preceded in death by his daughter Cheryl, daughter-in-law Eileen Marie, many brothers and a sister.
Surviving are his beloved wife the former Shirley Ann Darbenzio; sons Albert Jr. and Anthony; grandchildren Christopher, Aimee Grabosky-Rios, Albert Joseph, Jeffrey, Terina Ross, and Tahnee; great-granchildren Kaitlyn and Nicholas; brothers Charles and Bernie, sister Jacqueline Miller, and nieces and nephews.
Family and friends are invited to a viewing on Tuesday from 5-8pm at the Ruane & Mudlock Funeral Home, Inc., 18 Kennedy St., Pittston. Online condolences can be made at www.ruaneandmudlock.com.
The funeral will be held on Wednesday, February 6th at 11am in the Independent Bible Church of Duryea on Main St. in Duryea. The family will receive friends from 10am until time of service. Interment will be at the convenience of the family.
Guestbook Entries
Condolences to all the family. Memories to cherish.

Robby Wenrich, Berwick

(almost 3 years ago)
Sign the Guestbook